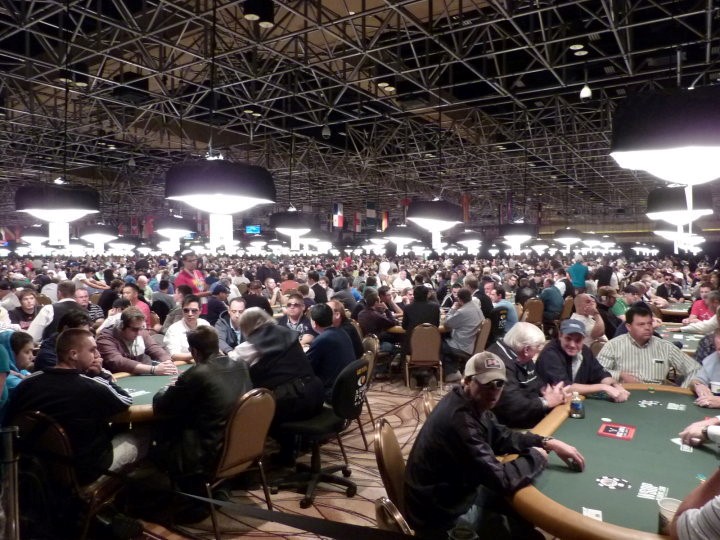 I volunteer about 10 months a year. It is a huge part of my life, and will probably stay that way for a very long time.  For those months, getting away for more than a few days at a time is difficult. Therefore, I reserve two months for myself. This allows me to balance my life a little, and come back fresh each year. I have one hobby that allows me to relax and completely switch gears. I play at the World Series of Poker every year. I often get asked about the experience.
This is a complete immersion into a world that I usually don't operate in. Everyone around me at the WSOP have a shared interest in the game, in winning, and in having a good time. It is not unlike a cult, in that we have our own etiquette and a language full of interesting lingo.
While playing poker, I find myself concentrating exclusively on the table around me, on the game, and on controlling my own emotions while trying to gauge the emotions of others. When you are in the midst of a betting round, it is exciting and terrifying all at the same time. It is one of the few things I participate in that 14 hours can pass without notice (other than a stiff back!). It allows me to focus the intense part of my personality at a single subject without interruption.
The reality is that poker is a very brutal game! Your role as a player is to take the chips from the players at your table. It is a combination of probabilities, psychology, and luck that is easy to learn and impossible to master. You can play a hand 'perfectly' according to all standard philosophies of the game and still lose! It is frustrating, irritating, and not fair. I find it very interesting to see how various people handle the stress of playing in a tournament. Most players tend to lose emotional control, get frustrated, lose patience, and end up playing poorly. The hard part of this game, and on the one I am working on mastering, is keeping my emotions in check when things don't work out my way. This gives me an edge playing against others. Bad things happen. It's the game. It's poker!
Aside from the game, this is a very unique social experience. Everyone is walking, talking, eating, and breathing the game. Players I have met over the years get together and discuss strategy, gossip, and just chit chat. There are people I know here only as poker players. We will unlikely ever see each other outside of Vegas. Most of us can't remember names, but we know how each other play and remember these little bits of information year after year. It is a big community full of odd and interesting personalities. 95% of these people are honest, friendly, and intelligent people who would make a fine addition to ones life. 5% are degenerates with gambling and drug problems. There are a small number of very seedy characters here as well.
No story about the WSOP is complete without the Bad Beat story. A 'Bad Beat' is when someone feels especially unlucky about losing a hand. These are the frustrating hands that stick out in ones mind, such as when someone starts the hand with two Aces and loses to some 'idiot' who called a huge bet with really bad cards and got lucky. Not to bore you with the details of any particular bad beat, but it is interesting that you can tell a bad beat story from 100 feet. They all have the same rhythm, the same expressions, and the same sympathetic audience reactions. You can tell even if they are speaking Spanish, German, Russian, or any of the other languages being spoken here. This is part of the cult that binds us all together!
So what is it anyway?
The World Series of Poker is a 6 week long series of poker tournaments played in Las Vegas. Poker players converge here once a year to play about 57 different major tournaments for which winning gets you a coveted WSOP Bracelet. Starting the last weekend of May, and running until mid July, there is a new tournament started every day at noon. This time of year, Vegas becomes the absolute poker capital of the world. Not only does the WSOP have its official events, but pretty much every other major casino in Vegas has their own series of tournaments running.
A poker tournament is a game where you pay a fixed amount, are given a limited number of chips, and you play until your chips are taken by another player. At the very end of the game, one player ends up with all of the chips, and that player is the winner. At the WSOP, the winner gets a lot of money, and a bracelet. Everyone who enters contributes their entry fee into a prize pool. The house takes about 6% of the money for themselves. The rest of the money is divided up between the top placing players. The standard is that the final 10% of players are 'Cashing', or winning money.
To cash at a WSOP event is an exciting achievement for a poker player. Making the final table is the next level up. That means you are in the final 9 players in a tournament. Making a final table is a huge merit badge for a poker player. Winning the final table is the ultimate goal, as you win the contest and get the biggest payout (usually around 20% of the prize pool, which can be a LOT of money). The pay scale is exponential in nature, so each position change at the final table can make a big different in prize money.
Most of these games cost between $1500 and $5000 to enter. A few are $10,000 and one game is $50,000 to enter. Anyone with money can enter any tournament.
One game, known as the Main Event, is the last event for the series, and is a HUGE $10,000 game. Winning the Main Event is pretty much every poker players dream. It is horridly difficult to do. There are usually around 7,000 players. The tournament takes about 9 full days to play. It is so big that they have to schedule multiple starting days just to fit everyone. Winning means a LOT of money (usually between 7 and 9 million dollars), bragging rights, and usually very high paying endorsement deals.
The size and scope of the WSOP is difficult to convey in words. Everything about it is big. I would say on any given day, there are 15,000 people here to play poker. About half are playing at WSOP events, the others are going to various other poker tournaments around Vegas. Many players show up for about 5 days in hopes of making money in a big tournament. In total, there will be about 60,000 individual poker players making the trip here to the WSOP. The total prize pool for all of the events is around $675 MILLION dollars. That is a lot of poker money!
Each day, players also play smaller single table tournaments called Satellites, which allow them to by in for a couple hundred dollars for a chance to win entry into one of the bigger events. Each satellite has 10 players, and whoever wins gets tournament buy-in chips, allowing them to pay for the bigger tournaments. These typically take about 2 hours to play out.
Players not currently in a tournament are also playing 'cash games', which is poker played with chips with real money value. This is a huge section of the WSOP, and each day there are millions of dollars sitting on the tables being battled for.
Aside from the money, the WSOP is a very interesting cross section of the worlds population. People come here to play from all around the world.  Last year, players came from 115 different countries.